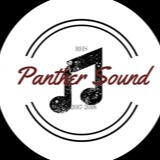 | ● Profile Info | ⠀⠀⠀⠀⠀ ≡ |
| --- | --- |
| Status | in action |
Panther Sound
marching band, wind ensemble, colorguard, winter guard, orchestra, indoor winds, jazz
---
how to join RHS Panther Sound encourages new and experienced students to express themselves through music and performing arts! You can contact our director at [email protected] or fill out our interest form to join. To ensure your spot, it is crucial to be enrolled in a class with Mr. Carden.
when RHS Panther Sound offers a variety of ensembles that perform throughout the year! In the fall, marching band takes place. In the winter, we offer winterguard and indoor winds. Wind ensemble, jazz band, and orchestra also perform during the spring/second semester.
where Throughout the year, RHSPS performs at varsity football home games and different high schools for both competitions and festivals.
▶ Cabinet
President - Shiloh Chan
Vice President - Sofia Hernandez
Drum Majors - Austin Tran & Jacqueline Ly
Jr Drum Major - Katelyn Trieu
Treasurer - Alicia Tam
Operation Director - Donny Zhu
Secretary - Vivian Halim
Archives - Maegan Zhang & Joseph Moreno
...

Music Director!

...

● 8:45 PM
David Carden earned a BA in Music Education from Azusa Pacific University in 2001 and a Master of Music degree in instrumental conducting from CSULA in 2008. After graduating, he performed as a percussionist for the Tony Award winning production of Blast!
Like • Comment
...

Staff!

...

● 10:24 PM
Kevin Leevarinpanich

- Assistant Director, Woodwind coach;

Daphne Hu

- Head Color Guard Instructor;

Miguel Saldana

- Drumline instructor;

Jesse Hernandez

- Front ensemble instructor;

Esteban Jimenez

- Visual Instructor
Like • Comment
♡ 30 likes • 2 hrs ago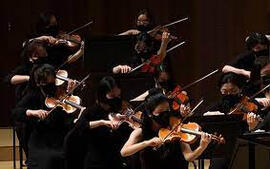 Orchestra consists of string players that perform during festivals and concerts in the spring.
♡ 118 likes • 5 hrs ago

Marching band and wind ensemble consist of wind players that perform for competitions, festivals, concerts, and football games all year long!
♡ 346 likes • 9 hrs ago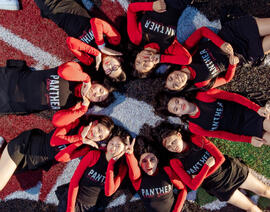 Colorguard performs alongside our marching band during the fall. After, winterguard takes on their own indoor guard show!